MyLab CoviSelf Test Kit in Hindi – COVID Self Test Kit Kya Hai, aur Kaise Use Karen?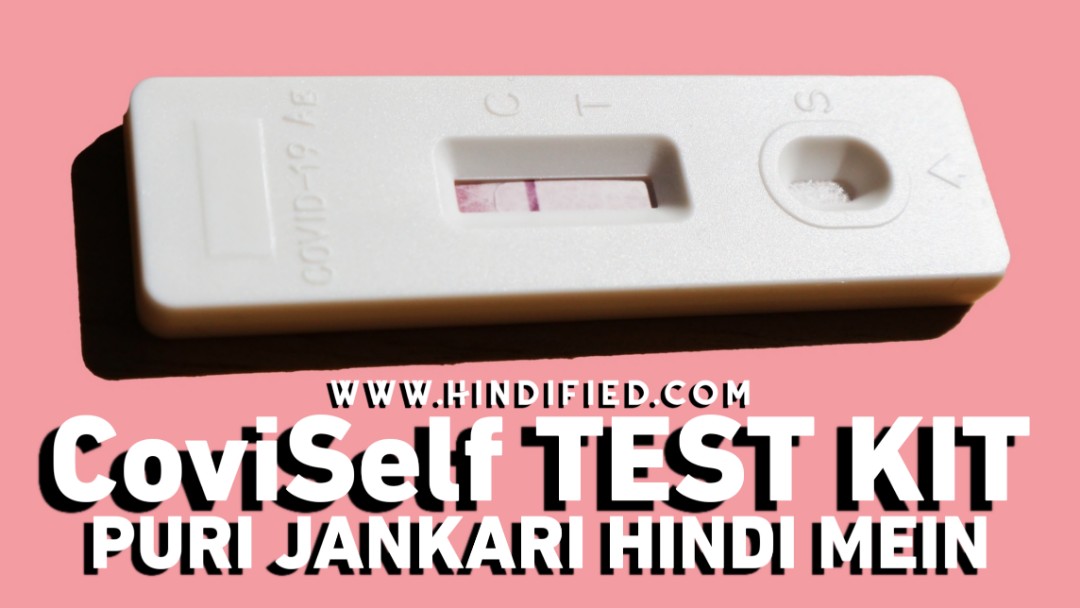 Desh mein badhate Coronavirus maamalon aur COVID-19 test ko lekar badhate dabaav ke maddenajar, Bharatiye Chikitsa Anusandhaan Parishad (ICMR) ne budhvaar ko pehli COVID Test Kit ko manjooree dee. Pune sthit ek company ko COVID-19 ke lie apnee naee Self Test Kit,jisko CoviSelf ka naam diya gaya hai, ke lie manjooree dee gaee thee, jiska parinaam keval 15 minute mein upalabdh ho jata hai. Iss article mein, ham MyLab CoviSelf (COVID Self Test Kit) ke bare mein janenge Hindi mein, aur isse sambandhi anya zaruri baaton ke bare mein bhi charcha karenge.
---
MyLab CoviSelf Kya Hai?
Today, Mylab has taken an important and essential step to help India and the world fight the worst pandemic in the history of mankind. A step that will empower every Indian to fight this pandemic. We feel humbled to give India – its first Self-use Covid-19 test kit – CoviSelf. pic.twitter.com/5Y9VxEIEEV

— Mylab Discovery Solutions (@MylabSolutions) May 20, 2021
CoviSelf Bharat kee pahalee COVID-19 Self Test Kit hai jo Pune sthit Mylab Discovery Solutions dvaara banaya gaya hai. Yah ek Rapid Antigen Test kit (RAT) hai. Rapid Antigen Test ko aamataur par lab mein kiye jaane vaale RT-PCR Test kee tulana mein kam sanvedanasheel maana jaata hai. Iska matalab hai ki yah kam ya halke sankraman ke maamale mein negative bhi dikha sakta hai. Uchch viral load ke maamale mein parinaam adhik sateek hote hain.
COVID Self Test Kit ke roop mein baajaar mein upalabdhata ke lie CoviSelf Test Kit ko Drug Controller General of India (DCGI) dvaara anumodit (approve) kiya gaya hai, aur ise ek saptaah ke bheetar aam janata ke lie baajaaron mein upalabdh karae jaane kee sambhaavana hai. Iss home test kit ka upayog karna atyant saral maana jaata hai. Yah ek disposal bag ke saath aata hai jiska upayog istemaal kee gaee test kit ko surakshit roop se phekne ke lie kiya ja sakata hai.
---
CoviSelf Kit Price in India
MyLab, CoviSelf banane vaali company, ne ek bayaan mein kaha ki COVID Self Test Kit ko kisi bhi local pharmacy aur online, bina kisi prescription ke ₹250 mein khareeda ja sakta hai.
MyLab ke prabandh nideshak Dr.Hasmukh Rawal ne kaha, "Bharat ke lie, ham America mein is tarah kee kit kee keemat se bahut hee kam keemat par laakhon kit upalabdh karaenge. "Yah COVID Self Test kit agle saptaah ke ant tak baajaar mein upalabdh ho jaegee. MyLab kee vartamaan utpaadan kshamata prati saptaah 70 lakh kit hai, aur iskee yojana aane vaale kuch samay mein prati saptaah ek crore kit tak badhaane kee hai". Company ne kaha ki kit Bharat mein kam se kam 7 lakh chemist aur online pharmacy websites par upalabdh hongee.
---
CoviSelf Test Kit Ko Use Kaise Kare – COVID Self Test Kit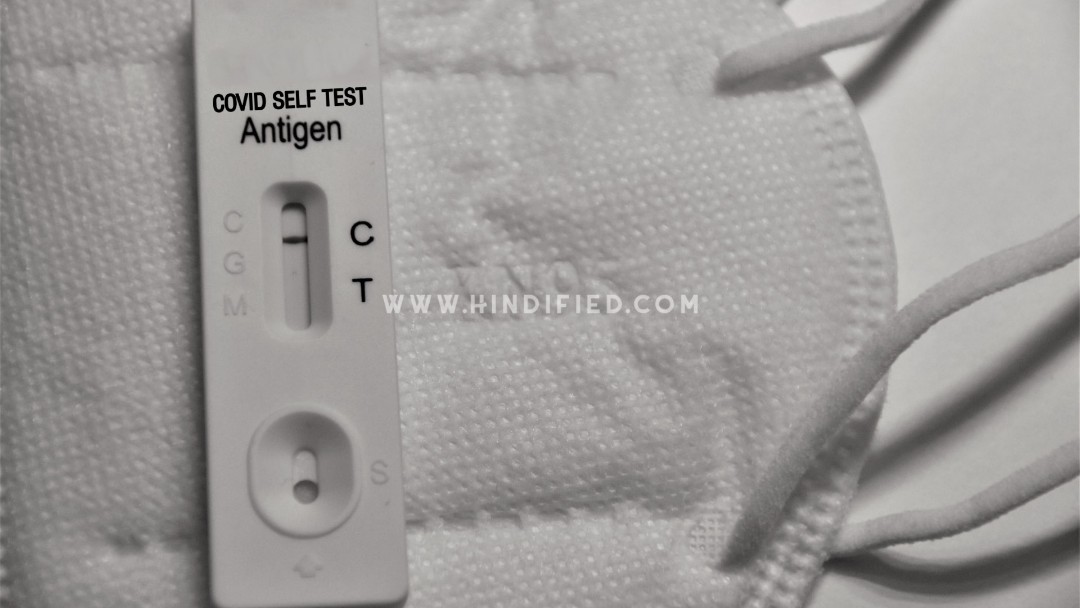 Bharatiye Chikitsa Anusandhaan Parishad (ICMR) ke nirdesh ke anusaar, test kit ka upayog keval un logon dvaara kiya jaana chaahie jinamen Coronavirus ke lakshan hon, ya ve kisi aise vyakti ke ke sampark mein aae hon jo COVID-19 positive hai. Yadi aapme Coronavirus ke lakshan hain lekin COVID Self Test kit ka result negative aya hai, to aapako prayogashaala se RT-PCR Test karavaana chaahie. RAT Kit ya COVID Self Test Kit ke maadhyam se positive result vaale vyaktiyon ko vaastavik positive hee maana jaega aur unhen dobaara COVID-19 test karwane kee aavashyakata nahin hogee.
COVID Self Test Kit (CoviSelf) ek pahale se bhare hue test tube, ek sterile nasal swab (naak mein daalne ke liye), ek pareekshan card, aur ek biohazard disposal bag ke saath aata hai. Test kit ka upayog karne ke lie kripya niche diyegaye charnon ka palaan kare.
---
Step 1 › Sabse pahale aapko Google Play Store ya Apple App Store se MyLab CoviSelf app download karna hoga.
---
Step 2 › Ab COVID Self Test karne ke lie, aapako diye gaye test swab ko apne donon naakon ke andr kam se kam 2-4 cm tak daalna hoga.
---
Step 3 › Ab uss test swab ko pehle se bhari hui test tube mein daal kar uska dhakkan ban dar den.
---
Step 4 › Testing card par tube se liquid kee do boonden (2 drops) daalen aur COVID test result ke lie 15 minute tak prateeksha karen.
---
Note: Saamaany taur par, ek positive maamale ka pata lagaane mein 5-7 minute ka samay lagta hai, lekin 15 minute tak prateeksha karne kee salaah dee jaatee hai. Kisee bhee parinaam ko pradarshit hone mein 20 minute se adhik samay lagne par test ko dubara naye kit ke saath karne ki salah dee jati hai.
---
Step 5 › Test poora ho jaane ke baad, aur apna result jaanne ke baad aapko poore kit ko, kit ke sath diye gaye disposal bag mein seal karke isko dustbin mein phek dena hai.
---
CoviSelf Test Kit Ka Result Kaise Dekhen
Kit mein maujood Test Card mein do section hote hain – Control (C) aur Test (T) Section. Card mein liquid daalane ke baad yadi bar keval Control Section (C) par dikhaee deta hai, to iska matalab hai ki parinaam "Negative" hai, aur yadi bar Control Section (C) aur Test Section (T) donon par dikhaee deta hai, to iska matalab hai ki result "POSITIVE" hai. Test poora hone ke baad, aapko apne mobile phone mein maujood CoviSelf app ka istemaal karke uss Test Card kee ek photo lene kee aavashyakata hai. App us test result ko darj kar lega jo ICMR COVID-19 Test Portal se juda hai.
---
Samapan
Pichhale do maheenon mein, Bharat mein COVID-19 maamalon kee sankhya mein tejee se vrddhi dekhee hai, jise doosaree lahar kaha gaya hai. Is maheene kee shuruaat tak dainik nae maamale niyamit aadhaar par 400,000 ko paar kar gae hain. Bharat mein budhvaar ko 276,000 se jyaada nae maamale saamane aae, jabaki kareeb 3,900 mareejon kee maut huee.
Aspataal ya lab mein jaane ke bajaay ghar par khud ka pareekshan karne vaala vyakti, doosaron mein sancharan ke jokhim ko kam karta hai. CoviSelf COVID Self Test Kit ka istemaal kaaphee saral aur tvarit hai. Self Test Kit un prayogashaalaon par bojh ko kam karega jo vartamaan mein pooree kshamata ke saath 24 ghante kaam kar rahe hain.