Email Kya Hota Hai? Email ID Kaise Banaye? Email Address Ka Matlab, aur Email se Judi Har Ek Baat Hindi Me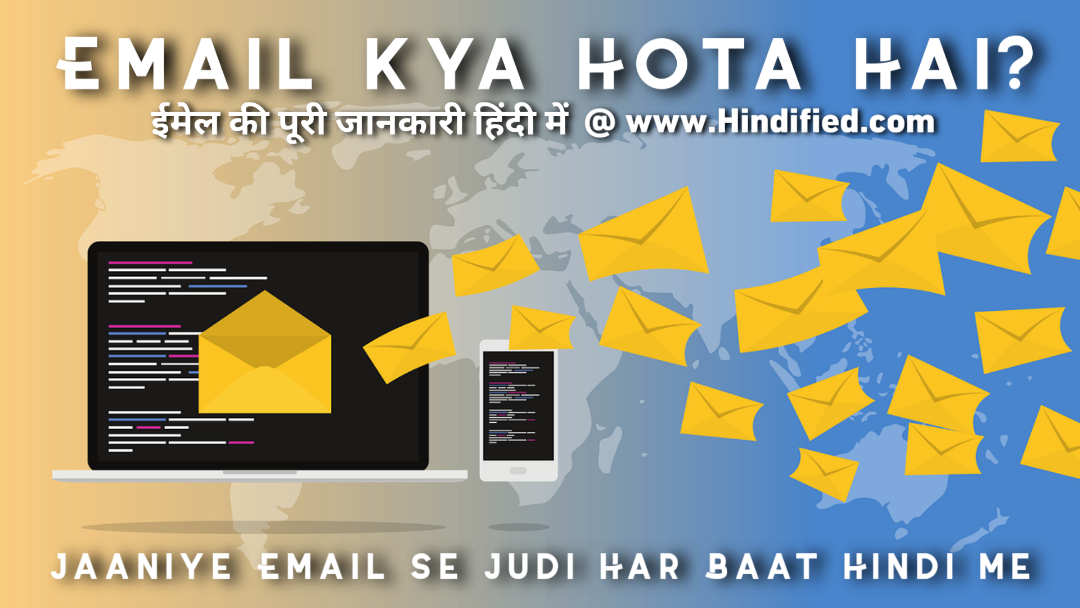 Email kya hota hai? Email, "Electronic Mail" ka sankshipt roop hai. Ek patr (letter) ke samaan, ise internet ke maadhyam se ek praaptakarta ko bheja jaata hai. Email praapt karane ke lie ek Email pate kee aavashyakata hotee hai, aur yah pata upayogakarta ke lie vishisht hota hai. Kuchh log Email par pahunchane aur sangraheet karane ke lie apane computer ya mobile par internet-aadhaarit application jaise Gmail, Outlook, ya anya kisi application ka upayog karte hain.
Pahala E-mail 1971 mein Ray Tomlinson dvaara bheja gaya tha. Tomlinson ne khud ko ek pareekshan E-mail sandesh ke roop mein E-mail bheja, jisamen "something like QWERTYUIOP" likha tha. Haalaanki, khud ko E-mail bhejane ke baavajood, E-mail sandesh abhee bhee ARPANET/Internet ke maadhyam se sancharit kiya gaya tha.
---
〈Vishaya Soochi〉 Iss Article Me Hum Janenge:

---
Email Address Kya Hota Hai?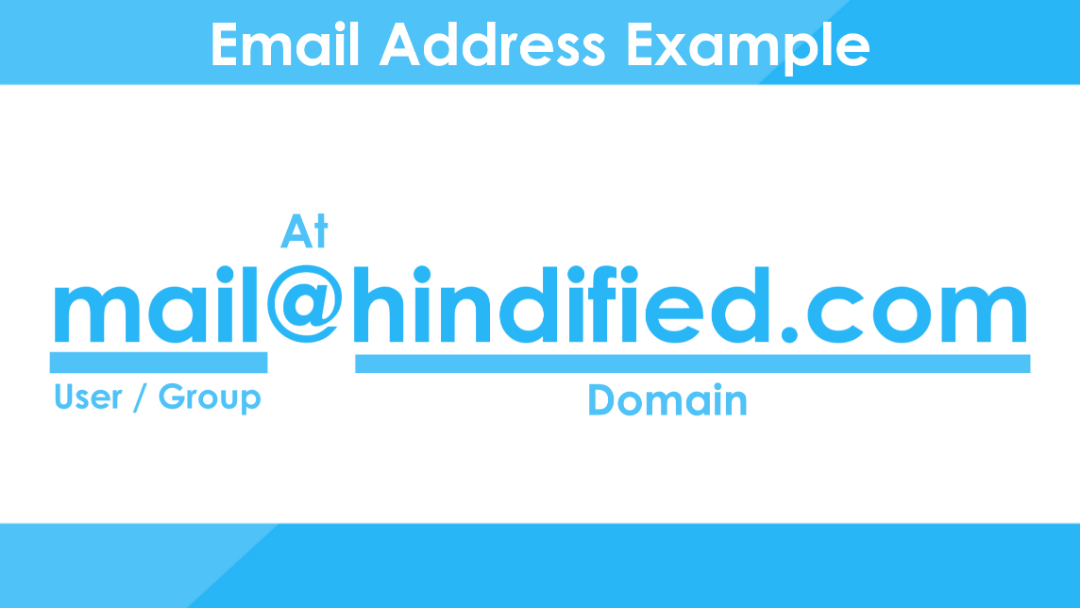 Ek Email address, ya Email pata, ek Email ID ke lie ek vishisht pahachaanakarta hai. Email address ka upayog internet par email sandesh bhejane aur praapt karane donon ke lie kiya jaata hai. Ek letter ya patr ke samaan, ek Email sandesh ko preshak aur praaptakarta donon ke lie ek pate kee aavashyakata hotee hai taaki use saphalataapoorvak bheja ja sake. Usi pate ko Email Address ke roop me jana jata hai.
Upayogakartaon ko maany Email pata banaane ke lie neeche die gae vibhinn niyamon ka paalan karna hoga:
"@" (At sign) ke baad ek username ek Email address ke lie sabase mahatvapoorn hai, jo domain naam ke baad domain pratyay ke saath aata hai. Isalie, ek E-mail mein ek upayogakarta naam (Username) hona chaahie.
Domain naam 254 varnon se adhik lamba nahin ho sakata hai, aur upayogakarta naam (username) 64 varnon se adhik lamba nahin ho sakata hai.
Ek Email mein keval ek "@" chihn hona chaahie.
Ek Email mein space (khali jageh) nahin hona chaahie, aur vishesh akshar jaise \ [] ():; <> ko istemaal karne ki kuchh Email pradaataon dvaara anumati nahin hai.
Email mein, Email pata aur upayogakarta naam ek avadhi ke saath shuroo ya samaapt nahin ho sakata hai.
Email mein do ya adhik kramik avadhi kee anumati nahin hai.
---
Email Kaise Likhen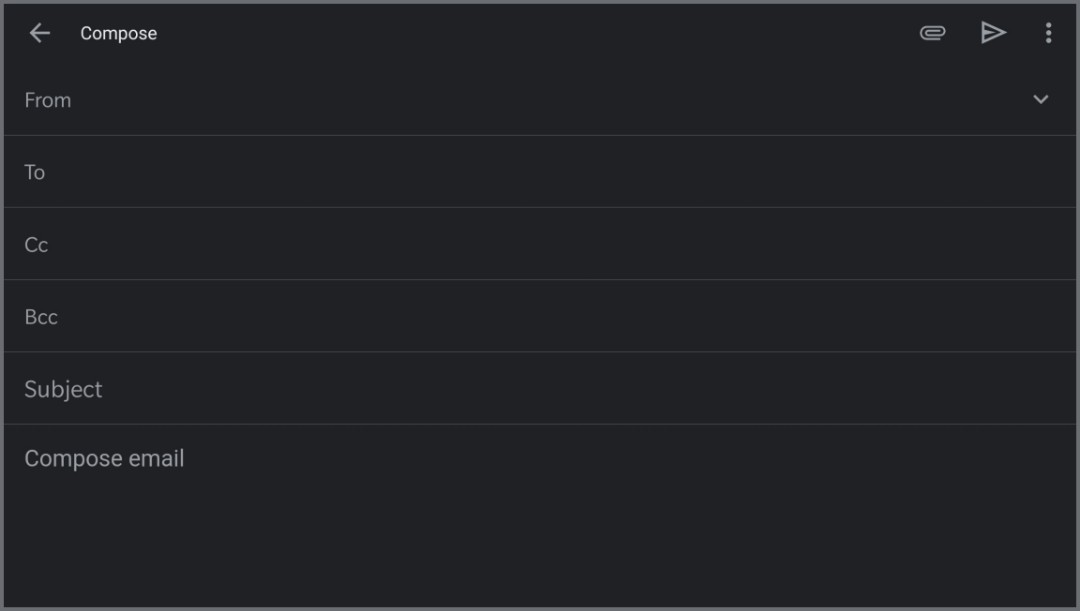 E-mail sandesh likhate samay, ise neeche screenshot me dikhaye gaye udaaharan jaisa kuchh dikhana chaahie. Jaisa ki aap dekh sakate hain, E-mail bhejate samay kaee kshetron kee aavashyakata hotee hai:
"To" field me E-mail praapt karane vaale vyakti ka E-mail pata likha jaata hai.
"From" field me aapaka E-mail pata hona chaahie. Yadi aap kisee sandesh ka uttar de rahe hain, to to: aur from: field svachaalit roop se bhar jaate hain. Yadi yah ek naya sandesh hai, to aapako apane sampark soochee se ya E-mail address type karke praaptakartaon ko to: field mein nirdisht karana hoga. Yadi aap ek se adhik praaptakarta (jaise, samooh E-mail) darj karate hain, to paton ko alpaviraam aur ek sthaan ya TAB button dabaakar alag kiya jaana chaahie.
"Subject" ya Vishay mein E-mail kee saamagree ka varnan karane vaale kuchh shabd shaamil hone chaahie. Vishay praaptakarta ko yah dekhane deta hai ki E-mail kis baare mein hai, poorn E-mail ko kholane aur padhane ke bina. Yah field vaikalpik hai.
CC ("Carbon Copy") field aapako un praaptakartaon ko nirdisht karane kee anumati deta hai jo pratyaksh pate vaale nahin hain ("To" field mein soocheebaddh hain). Udaaharan ke lie, aap Email sandesh Monu, aur CC Golu aur Bholu ko sambodhit kar sakate hain. Haalaanki E-mail ko Monu ko sambodhit kiya jaata hai, Golu aur Bholu ko bhee ek prati milatee hai aur har koee dekh sakata hai ki E-mail kise praapt huee. Yah field vaikalpik hai.
BCC ("Blind Carbon Copy") kshetr CC ke samaan hai, sivaay isake ki praaptakarta gupt hain. Pratyek BCC praaptakarta ko E-mail praapt hoga, lekin yah nahin dekhega ki kisane aur kya prati praapt kee. Sabhee praaptakarta ("To" field mein soocheebaddh) dikhaee dete hain. Yah field vaikalpik hai.
Ant mein, sandesh nikaay (Message Body) vah sthaan hai jahan aap apana mukhy sandesh likhate hain. Isamen aksar neeche kee or aapake hastaakshar hote hain; hastalikhit patr ke samaan.
---
Email Attachment Kya Hota Hai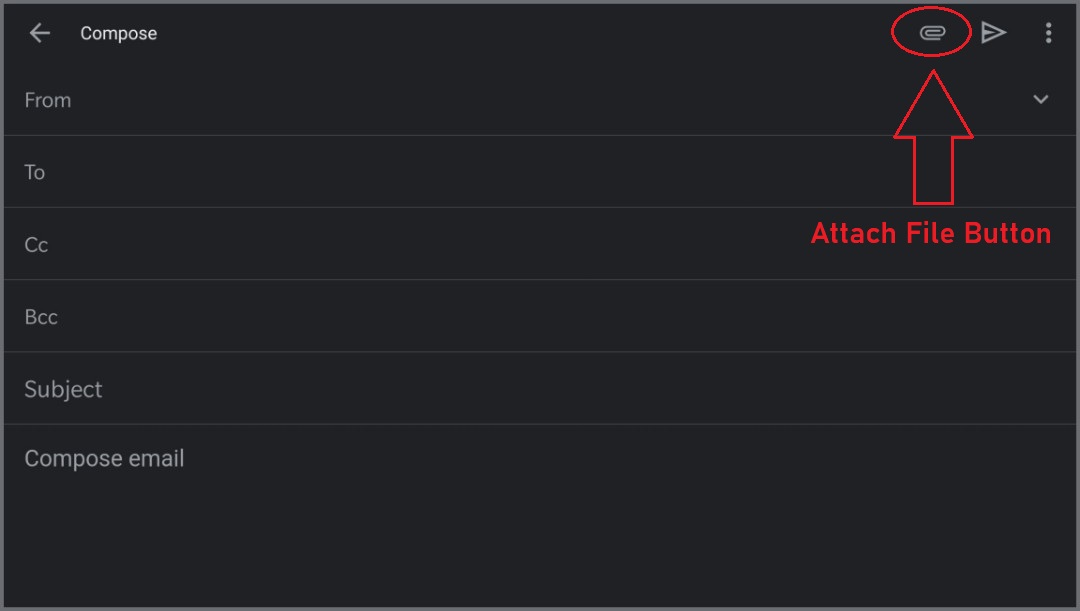 Email attachment, ek Email sandesh ke saath bhejee gaee file hai. Yah ek photo, video, document, ya kisee any prakaar kee file ho sakatee hai. Adhikaansh Email client aur webmail system (Gmail, Yahoo Mail, etc.) aapako attachment bhejane aur praapt karane kee anumati dete hain. Apne Email ke saath ek email attachment bhejane ke lie, aap "Attach" option ka upayog kar sakate hain, phir us file ko select karen jise aap bhejna chaahate hain. Kuchh Email interface mein, aap ise attach karane ke lie bas ek file ko message window mein kheench sakate hain, jise drag and drop bhi kaha jata hai. Jab aap ek email attachment praapt karate hain, to adhikaansh Email programm aapako email attachment ko jagah mein dekhane ya apane sthaaneey sangrahan device par sahejane kee anumati dete hain.
Aap ek Email sandesh mein kaee files attach kar sakate hain. Haalaanki, sanyukt email attachmenton ka adhikatam aakaar mail server ko bhejane aur praapt karane tak seemit hai. Doosare shabdon mein, encoded hone ke baad email attachment ka aakaar outgoing ya incoming mail server kee seema se bada nahin ho sakata hai. Email ke shuruaatee dinon mein, attachment ek megabyte (1MB) tak seemit the. Aaj, kaee mail server 20MB se bade email attachmenton kee anumati dete hain. Haalaanki, virus aur malware se bachaane ke lie, kaee maill server nishpaadan yogy file prakaaron ko sveekaar nahin karenge, jaise .exe file aadi. Yadi aapako kisee ko nishpaadan yogy file bhejane kee aavashyakata hai, to aap Email sandesh mein attach karane se pahale file ko .Zip sangrah ke roop mein sampeedit kar sakate hain.
---
E-mail Kaise Bhejen aur Praapt Karen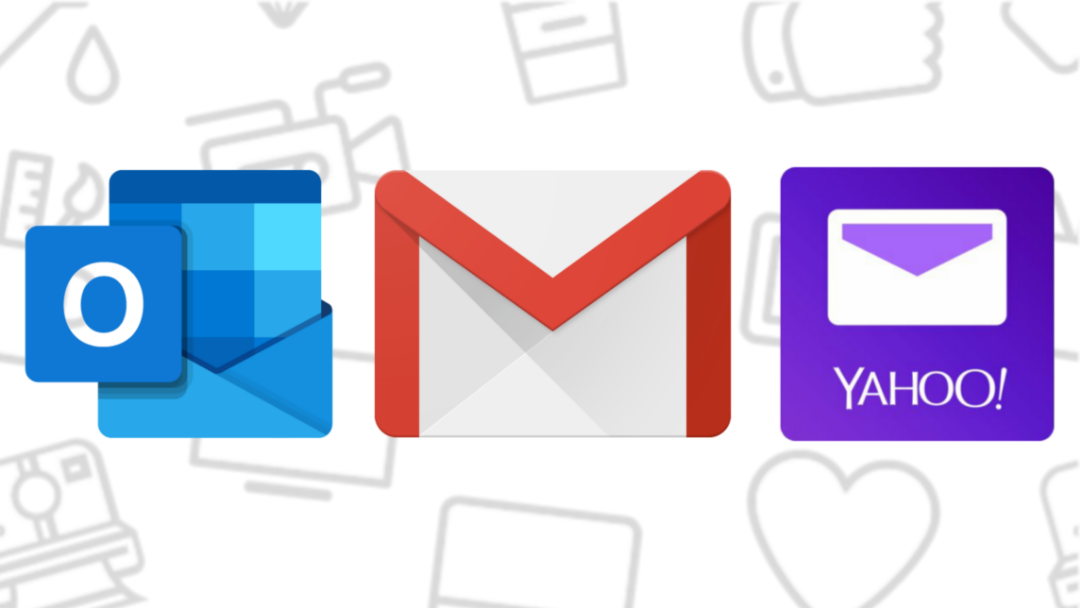 Email ek aisa manch hai jo upayogakartaon ko ek doosare ke saath sanvaad karane mein saksham banaata hai. Yah upayogakartaon ko duniya bhar mein Email par ek file ya koi bhi or data sahit paath sandesh bhejane kee anumati deta hai. Email mein chitr, documents, PDF, programm, movie, ya aapake computer par sangraheet kisee bhi file ko bhejna sambhav banata hai. Haalaanki, kuchh suraksha samasyaon ke kaaran, Email par kuchh prakaar kee file bhejana sambhav nahin ho sakata hai; unhen kuchh atirikt charanon kee aavashyakata hai. Udaaharan ke lie, .exe file ko kaee kampaniyon dvaara Email par bheje jaane se avaruddh kiya ja sakata hai, aur aapako file ko ek .Zip file svaroop mein sampeedit karane kee aavashyakata hogee. Isake atirikt, aap kisee bhee badee file ya prograam ko Email par bhejane se asamarth ho sakate hain kyonki adhikaansh Email pradaataon ke paas file aakaar pratibandh hain.
---
1. Online E-mail/ Email Application
E-mail bhejane aur praapt karne ka ek vaikalpik tareeka (aur adhikaansh logon ke lie adhik lokapriy samaadhaan) ek online E-mail seva ya webmail hai. Udaaharanon mein Hotmail (ab Outlook.Com), Gmail aur Yahoo Maill shaamil hain. Online E-mail sevaon mein se kaee, jinka humane ullekh kiya hai, muft hain, ya unake paas ek mupht khaata vikalp hai.
---
2. E-mail Programm
E-mail sandesh bhejane aur praapt karane ke lie, aap E-mail programm ka upayog kar sakate hain, jise "E-mail client" ke roop mein bhee jaana jaata hai, jaise ki Microsoft Outlook ya Mozilla Thunderbird. E-mail client ka upayog karate samay, ek server jo aapake sandeshon ko sangraheet aur vitarit karata hai, ka upayog kiya jaata hai. Yah server aksar aapake ISP dvaara host kiya jaata hai, jo koi bhi internet company ho sakatee hai. E-mail client ko naya E-mail download karne ke lie server se connect karne kee aavashyakata hotee hai, jabaki online sangraheet E-mail kisee bhee internet se jude device ke lie hamesha upalabdh hota hai.
---
Email ID Kaise Banaye?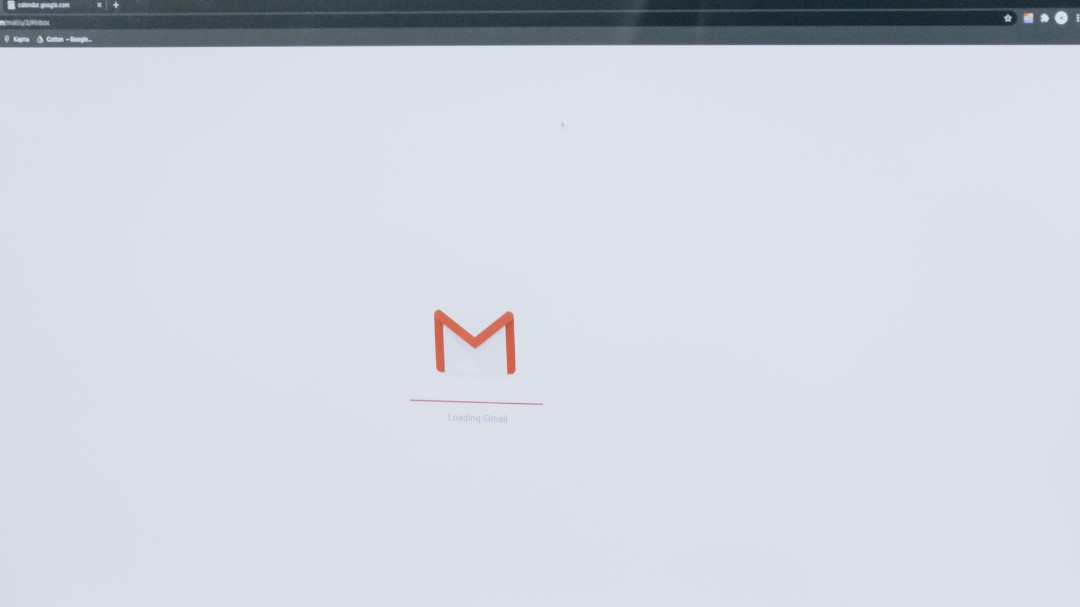 Email ka upayog vibhinn tareekon se kiya ja sakata hai, isaka upayog ya to sangathan ke bheetar ya vyaktigat roop se, do logon ke beech ya bade logon ke samooh sahit sanvaad karne ke lie kiya ja sakata hai. Adhikaansh logon ko sahakarmiyon ya doston ya vyaktiyon ya chhote samoohon ke saath Email dvaara sanvaad karne se laabh milata hai. Yah aapako duniya bhar ke logon ke saath sanvaad karane, chitr, dastaavej, link aur koi bhi anya attachment bhejane aur praapt karane kee anumati deta hai.
Email ID banana bahut aasaan hai. Niche humne aapke liye ek link diya hai jahan aapko Email ID banane se judi har chiz vistaar se milegi. Iss link me aap sikh sakte hain ki Gmail par Email ID kaise banaye, Yahoo par email ID kaise banayen, aur yahan tak yah bhi sikh sakte hain ki Microsoft Outlook par email ID kaise banaye. To yadi aapko janna hai ki Email ID kaise banaye to kripya niche diye gaye link par jayen.
---
ईमेल आईडी कैसे बनाते हैं – हिंदी में (Gmail, Yahoo Mail, Microsoft Outlook/Hotmail)
---
Lokapriy Email Services aur Email Clients
Aaj, bahut sari mupht Email website hain, aur upayogakartaon ke lie vibhinn software-aadhaarit Email Clients upalabdh hain. Neeche vah soochee hai jisamen sabase lokapriy Email website, aur Email Client shaamil hain.
| | |
| --- | --- |
| Lokpriy Email Website | Lokpriy Email Clients |
| Gmail | Microsoft Outlookv |
| Microsoft Outlook | Mozilla Thunderbird |
| Yahoo Mail | Mail for Win10 |
| AOL | MailBird |
| ProtonMail | eM Client |
| Zoho | DreamMail |
---
Vibhinn Prakaar ke Email
Abhi tak humne yah jaana ki Email kya hota hai, Email Address kya hota hai, Email ID kaise banaye, aur Email kaise bheje aur prapt karen. Ab hum jaante hain vibhinn prakaar ke Email ke baare me, ya phir types of email ke baare me.
1. Plain Email – Yah ek saadhaaran Email hai jisamen chitr ya graphics ya koee svaroopan shaamil nahin hai, aur isamen keval paath hai. HunSpot ke anusaar, haalaanki log vibhinn pictures ke saath pooree tarah se design kie gae Email pasand karate hain, kam html vaale plain Email har pareekshan mein jeete. Vaastav mein, HTML Email mein kam khule aur Click Through Rate daren hotee hain, aur plain Email blog saamagree, event nimantran aur sarvekshan ya pratikriya anurodhon ke lie kargaar ho sakate hain. Bhale hee aap plain Email na bhejen, lekin aap apne Email ko saral banaane aur kam chhaviyon sahit daron ke maadhyam se apane Email ke jyada se jyada khulne ko badhaava de sakate hain.
---
2. Standalone Email – Ye Email Newsletter Email kee tarah lokapriy hain, lekin inamen ek seema hotee hai. Yadi aap kaee links ke saath ek Email bhejana chaahate hain, to aapakee mukhy Call-to-Action kamajor ho sakatee hai. Aapake graahak aapake Email ko chhod sakate hain aur aage badh sakate hain, kyonki ye aapake Email mein pahale link ya do par click kar sakate hain lekin doosaron ke paas vaapas nahin aa sakate hain.
---
3. Newsletters – Newsletter sabase aam prakaar ka Email hai jo niyamit roop se sabhee mailing soochee ke graahakon ko dainik, saaptaahik ya maasik roop se bheja jaata hai. In Emailon mein aksar blog ya website ya anya jaankari hoti hai jise company ne haal hee mein prakaashit kiya hai. Aamataur par, Newsletter Email me aagaamee ghatanaon ya company ke webinaar, ya koi update bhee shaamil kar sakate hain.
---
4. Lead – Ye Email sambandhit Emailon kee ek shrrnkhala hai jo upayogakartaon ke khareed vyavahaar ko prabhaavit kar sakate hain. Ye Email aam taur par kaee dinon ya haphton mein bheje jaate hain. Lead Email ko "Trigger Campaign" ke roop mein bhee jaana jaata hai, jo kisee bhee sambhaavit bikree ko poorn khareed mein sthaanaantarit karane aur sevaon par sambhaavit khareedaaron ko shikshit karane ke prayaas mein samaadhaan ke lie upayog kiya jaata hai. Isake alaava, lead Email ek sambhaavit khareedaar dvaara aarambhik kaarravaee kar rahe hain, jaise ki prachaar Email par link par click karana ya mupht namoona download karana.
---
5. Prachaar Email – Yah B2B (Business to Business) Email ka sabase aam prakaar hai, jisaka upayog aapake nae ya maujooda utpaadon ya sevaon kee Email soochee ko soochit karane ke lie kiya jaata hai. Is prakaar ke Email mein nae ya doharae gae graahak banaana, khareedaaree kee prakriya mein tejee laana ya kuchh prakaar kee kaarravaee karane ke lie samparkon ko protsaahit karana shaamil hai. Yah khareedaaron ko kuchh mahatvapoorn laabh pradaan karata hai, jaise ki seva ka ek mupht maheena, ya khareed mooly pe kuch pratishat ka discount.
---
6. Onbording Email – Ek onbording Email ek sandesh hai jo graahak vaphaadaaree ko majaboot karane ke lie upayog kiya jaata hai, jise bikree ke baad ke Email ke roop mein bhee jaana jaata hai. Ye Email sadasyata ke theek baad upayogakartaon ko praapt hote hain. Onbording Email khareedaaron ko kisee utpaad ko prabhaavee dhang se upayog karane ke baare mein parichit aur shikshit karane ke lie bheje jaate hain.
---
7. Transactional (Len-den) – Ye Email khaata gatividhi ya ek vaanijyik len-den se sambandhit hote hain aur ek preshak se ek praaptakarta ko bheje jaate hain. Len-den Email ke kuchh udaaharan khareed pushtikaran, password anusmaarak Email, aur vyaktigat utpaad soochanaen hain. In Email ka upayog tab kiya jaata hai jab aapka business E-Commerce se sambandhit ho. Kisee any prakaar ke Email kee tulana mein, Transactional Email sandeshon mein kai jyada khulta hai aur click hota hai.
---
8. Swagat Email – Yah B2B Email aur Onbording Email ke saamaany bhaagon ka ek prakaar hai jo upayogakartaon ko brand se parichit hone mein madad karata hai. Ye Email graahak kee nirantarata mein sudhaar kar sakate hain kyonki ve atirikt jaanakaaree shaamil karate hain, jo ek vyaavasaayik uddeshy ke sandarbh mein nae graahak kee madad karata hai. Aam taur par, welcome Email khareedaaron ko bheja jaata hai, jinhen vyavasaay kee opt-in gatividhiyon, jaise blog, mailing soochee, ya webinaar kee sadasyata miltee hai. Saath hee, ye Email vyavasaayon ko graahakon ke beech behatar sambandh banaane mein madad kar sakate hain.
---
Samapan
Iss article me humne Email ke baare me vistaar se jaana. Humne yah jaana ki Email kya hota hai, Email Address kya hota hai, Email ID kaise banayen, Email ke vibhinn prakaar, aur bhi anya zaroori baatein. Email ka upayog vibhinn tareekon se kiya ja sakata hai: isaka upayog ya to sangathan ke bheetar ya vyaktigat roop se, do logon ke beech ya bade logon ke samooh sahit sanvaad karane ke lie kiya ja sakata hai
Ek mohar ke lie bhugataan karane aur ek liphaaphe mein ek sandesh daalane ke bajaay, sandesh aapake computer par type kiya jaata hai aur internet ke maadhyam se digital roop se bheja jaata hai. Yah bahut tejee se sampark mein rahata hai kyonki Email aksar bheje jaane ke turant baad praapt hote hain. Ek Email bhejane ke lie, aapako bas ek Email pata, Email likhane ke lie istemaal kiya jaane vaala prograam aur ek internet connection kee aavashyakata hotee hai.