Anuprati Coaching Scheme Kya Hai? Puri Jankari Hindi Mein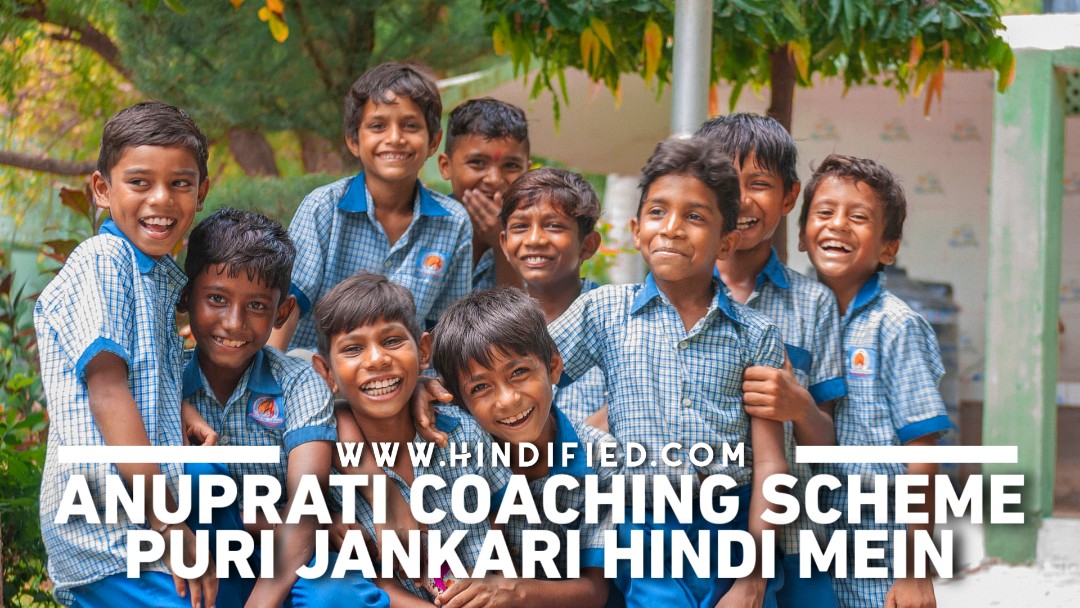 Rajya ke finance vibhaag dvaara jaaree ek circular mein kaha gaya hai ki Rajasthan ne vanchit chhaatron ko civil services aur professional courses mein entrance exams kee taiyaaree mein madad karne ke lie Chief Minister Anuprati Coaching Scheme ya मुख्यमंत्री अनुप्रति कोचिंग योजना shuroo kee hai. Iss yojana ke tahat unn sabhi bachchon ko free mein coaching pradaan karai jayegi jinke pass coaching jaane ke liye prayapt suvidhayen nahin hai. Aaiye iss nayi scheme ke bare mein adhik jankari prapt karte hain aur aapko batate hain ki iss scheme se kisko aur kya kya labh honge.
---
Anuprati Coaching Scheme in Hindi – अनुप्रति कोचिंग योजना Kya Hai?
Scheduled caste, scheduled tribe, anya pichhada varg (OBC), atyant pichhadee jaati, alpasankhyak aur aarthik roop se kamajor varg ke chhaatr jinkee vaarshik paarivaarik aay (annual family income) ₹8 lakh prati varsh se kam hai, ve tribal area development, minority affairs, and social justice aur empowerment departments dvaara sanchaalit yojana ka laabh utha sakenge. Pay-Matrix level-11 praapt karne vaale sarkari karmachaariyon ke bachche bhee Anuprati Coaching Scheme ke lie paatr honge, jiska upayog pratyek eligible student ek varsh kee avadhi ke lie kar sakata hai.
Yojana ke tahat Sangh Lok Seva Aayog / Union Public Service Commission (UPSC) dvaara aayojit civil seva exam, Rajasthan Lok Seva Aayog / Rajasthan Public Service Commission (RPSC) dvaara aayojit Rajasthan Administrative services (RAS) exam aur subordinate services joint entrance examinations kee taiyaaree ke lie ni:shulk coaching pradaan kee jaegee.
Yah chhaatron ko Rajasthan Shikshak Paatrata Pareeksha / Rajasthan Teacher Eligibility Test (REET), Grade Pay-2400 or Pay-Matrix Level-5 services, constable examination, sub-inspector and 3600 Grade pay or Pay matrix level-10 jaisee any RPSE exams kee taiyaaree mein bhee madad karega.
Common Law Admission Test (CLAT) ke alaava engineering and medical entrance exams ke lie bhee coaching dee jaegee. Yojana ke lie chhaatron kee paatrata class 10 aur 12 mein praapt ankon ke aadhaar par hogee. Kam se kam 50% ladakiyon ko shaamil karne ka prayaas kiya jaega.
Vanchit chhaatr jo apne grh shaharon ke baahar sthit coaching sansthaanon mein entrance exams kee taiyaaree karenge, unhen aavaas aur bhojan ke lie saalaana 40,000 rupaye die jaenge. Saamaajik nyaay evan adhikaarita vibhaag / social justice and empowerment department is yojana kee nodal agency hogee.
---
Samapan
Anuprati Coaching Scheme in Hindi / अनुप्रति कोचिंग योजना pahal ke saath, Rajasthan sarakaar ne vanchit chhaatron ke lie civil services aur professional courses mein entrance exams kee taiyaaree mein madad karne ke lie ek naee aasha pradaan kee hai. Yah unhen mupht mein padhai karne ka ek shaanadaar avasar pradaan karega, aur unake bhavishy ko ujjval banaane ke lie ek badalaav hoga.