RBI Governor Shaktikanta Das Speech Today in Hindi – ₹50K Crore "On Tap Liquidity", Aur Corona Se Nipatane Ke Upayon Kee Ghoshana Ki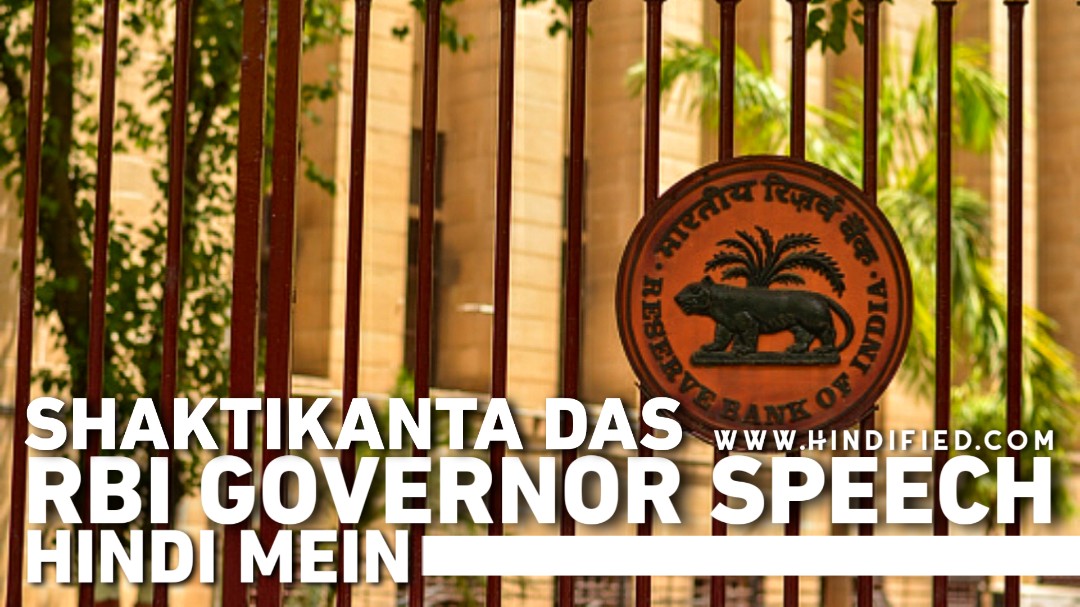 RBI Governor Shaktikanta Das ne apni Speech ko prarambh karte huye kaha ki 2020 mein pahalee lahar ke thamane ke baad Bharatiye arthavyavastha ek laabhakaaree sthiti mein thee, lekin saath hee kaha ki ghaatak COVID-19 ki dusri lahar ke bad, sthithi kafi badal gayi hai.
Shaktikanta Das ne budhavaar subah ek aghoshit Press Conference mein Bharat ko COVID-19 kee doosaree lahar ke dauraan arthavyavastha kee madad karane ke upaayon kee ghoshana kee. Bankon dvaara 31 March, 2022 tak die jaane vaale loan ko praathamikata vaale kshetr loan ke roop mein teen saal ke lie ya pahale jo bhee ho chukaane par vargeekrt kiya jaega. Unhone yah bhi kaha ki RBI coronavirus se uttpann hone wali sthithi ki lagataar nigrani karna jari rakhega. Aaiye ab najar daalate hain ki RBI Governor ke aaj ki Speech mein aur kya-kya kahan unhone.
---
RBI Governor Shaktikanta Das Speech Today in Hindi
Bharatiye Reserve Bank (RBI) ne budhavaar ko COVID-19 Vaccine banaane vaalon, chikitsa upakaran aapoortikartaon, aspataalon aur rogiyon ke lie 50,000 Crore Rupye ke COVID-19 "Healthcare Package" kee ghoshana ki, jinhen dhan kee aavashyakata hai. Isane vyaktigat aur chhote udhaarakartaon ke lie do saal tak ke loan ke punargathan ka ek aur daur khola.
"Is yojana ke tahat, ab Banks Vaccine banane walon, Coronavirus Vaccines ke importor, aur supplier, prathamik chikitsha upakaranon; aspataalon / dispensariyon; paitholojee lab; oxygen aur ventilator ke nirmaata aur aapoortikarta; Coronavirus sambandhit davaon, logistics companiyon, aur mareejon ke ilaaj ke lie bhee sahit kaee prakaar kee sansthaon ko taaja loan sahaayata pradaan kar sakate hain", RBI Governor Shaktikanta Das ne ek aabhaasee breifing mein kaha.
Shaktikanta Das ne kaha ki agale saal 31 March tak saste loan upalabdh honge, aur agar sankat bigadata hai to "Aparamparaagat" ya "unconventional" upaayon ko laagoo karane kee kasam khaee.
"Vinaashakaaree gati jisake saath Coronavirus desh ke vibhinn kshetron ko prabhaavit karata hai, usi teeji se desh ko virus se ladne ke liye upay karne ki zarurat hai," unhonne kaha.
Unhone kaha ki aspataalon mein oxygen, bed aur vaccine kee bhaaree kamee kee shikaayat ke saath, nae upaayon ka uddeshy mahaamaaree ke dauraan aapaatakaaleen svaasthy dekhabhaal tak pahunch mein sudhaar karana hai. Banks ke lie aspataalon, oxygen nirmaataon aur yahaan tak ​​ki rogiyon ko sasta loan dena aasaan hoga. Shaktikanta Das ne Speech mein aage kaha, "Iska taatkaalik uddeshy maanav jeevan ko sanrakshit karana aur sabhee tarah se aajeevika ko bahaal karana hai."
Bharat ke kamazor svaasthy dekhabhaal pranaalee ne naveenatam COVID-19 hamle ka saamana karane ke lie sangharsh kiya hai, jisamen bed aur oxygen kee kamee ke kaaran aspataal kee paarking mein mareezon kee maut ho jaatee hai.
Anya samarthan upaayon ke beech, RBI ne budhavaar ko bainkon se kaha ki kuchh udhaarakartaon ko loan chukaane ke lie adhik upalabdh karaya jana chaiye. Desh mein COVID-19 sankramanon kee ek badee doosaree lahar ke beech kaee raajyon mein sakht lockdown ho gae hain jiski vajah se kayi logon ka kaam band ho gaya hai.
RBI Governor Shaktikanta Das ne Speech me kaha ki jo vyakti 2020 mein apane loan ka punargathan nahin kar pae hain aur unhen March 2021 tak maanak khaaton ke roop mein vargeekrt kiya gaya tha, unhen adhisthagan upalabdh hoga.
RBI Governor ne kaha ki G-sec Acquisition Programme (G-SAP 1.0) ke tahat 35,000 Crore Rupaye kee sarakaaree pratibhootiyon kee doosaree khareed 20 May ko kee jaegee. Mooly vrddhi kee dar par, unhonne kaha, khaady aur eendhan mudraaspheeti ne core mudraaspheeti ko badha diya hai.
Pichhale maheene 25,000 Crore Rupaye kee pahalee khareed ko baajaar se utsaahajanak pratikriya milee, RBI Governor Shaktikanta Das ne Coronavirus mahaamaaree kee doosaree lahar se prabhaavit arthavyavastha ke vibhinn kshetron ko raahat dene ke upaayon ki ghoshana kee.
---
Samapan
RBI Governor Shaktikanta Das ne kaha ki vaishvik aarthik drshtikon anishchit hai lekin raashtreey mudraaspheeti (national inflation) par COVID-19 prabhaav pahalee lahar kee tulana mein kam hai. Shaktikanta Das ne yah bhee kaha ki Bharat ka vinirmaan kshetr (manufacturing sector) sabase kam prabhaavit kshetron mein se ek hai aur ek baar mahaamaaree phailane ke baad raashtreey arthavyavastha mein tejee se sudhaar kee ummeed hai.
Apne iss speech se pahale, RBI Governor Shaktikanta Das ne bainkaron aur shadow lenders ke saath baithak kee aur vartamaan aarthik sthiti, balance sheet ke lie sambhaavit tanaav, credit flows aur liquidity ke baare mein charcha kee.
RBI ne byaaj daron mein katautee karake loan holidays aur cash infusion ke saath Modi Sarkaar se raajakosheey samarthan (fiscal support) upaayon ko sanvardhit kia hai. Central Bank of India ne maudrik neeti (monetary policy) ko dheelee rakhane ka vaada kiya hai.
Haal ke haphton mein COVID-19 lahar ne Bharat ko buree tarah prabhaavit kiya hai aur Modi Sarkaar ghaatak Coronavirus ko aur adhik kharaab hone se rokane ke lie sabhee upaay kar rahee hai. Udyog samoohon ke dabaav ne iske prasaar ko rokane ke lie PM Narendra Modi par rashtriye star par lockdown lagane ka dabaav banaana shuroo kar diya hai, jo ab ekmatr aisa kadam hai jisse ab tak PM Modi ne nahi uthaya, pichle saal kee tarah hue aarthik nukshan se bachne ke liye.