Happy Birthday Sundar Pichai | Janiye CEO Ki Life Ke Bare Mein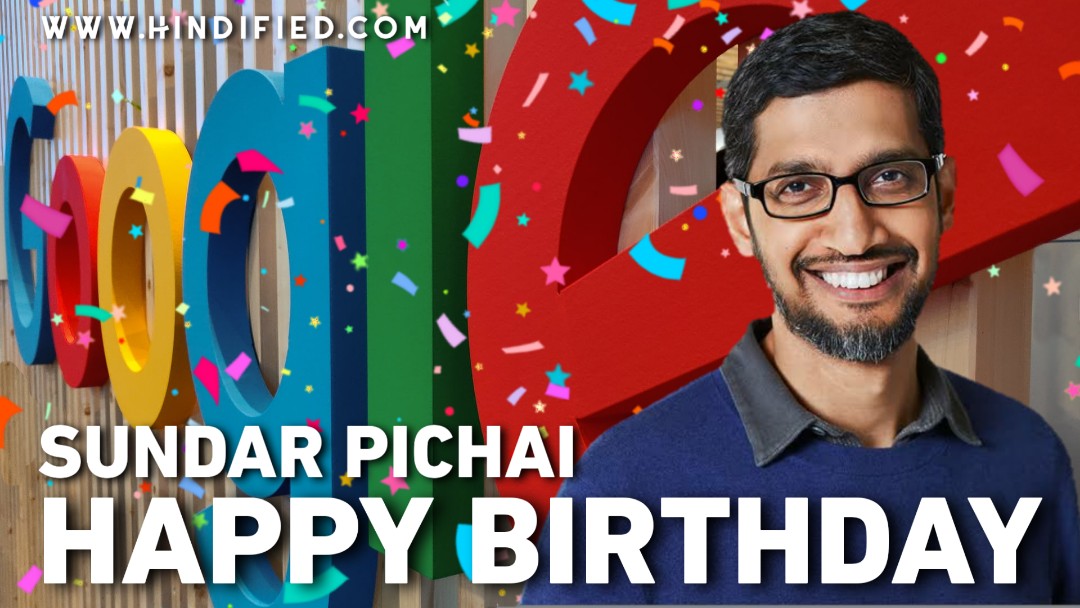 Happy Birthday Sundar Pichai!, Alphabet Inc. aur iski sahaayak company Google ke chief executive officer (CEO). Sundar Pichai 10 June, 2021 ko 49 saal ke ho gae hain, aur aaj apna 49th janmadin mana rahe hain. Sundar Pichai ka janm 10 June 1972 ko Bharat ke sahar Chennai mein hua tha. Aaiye Google ke CEO ke janamdin ke awsar par unki jindagi se judi kuch baatein jante hain.
---
Fans Ne Twitter Par Sundar Pichai Ko Birthday Wish Kiya
"Wear your failure as a badge of honor!"
Inspiration of Millions
Happy Birthday Sir 🎂 @sundarpichai#SundarPichai pic.twitter.com/hoBL4w8QkP

— Deepanshu (@Deepans03643546) June 10, 2021
Happy birthday…. proud of Tamilnadu
Inspiration to many#SundarPichai pic.twitter.com/7AR3ZA2XEt

— ◦•●◉✿ Ãrⓘкί ✿◉●•◦ (@arikisivaa) June 10, 2021
Wish u Happy birthday🎂🎉
Many returns of the day mr google pichai. " The Sundar pichai "
U r the single diamond💎💎♦ on a Earth🌎🌐 globally. #SundarPichai
@#Googleceo pic.twitter.com/HAmNRU0V3x

— Ravi Gupta (@IconicRavi) June 10, 2021
Happy birthday Sundar Pichai Sir… @sundarpichai
#SundarPichai #happybirthdaysundarpichai #SundarPichai pic.twitter.com/152DL9NePI

— rockey singh (@rockeys03560226) June 10, 2021
Happy Birthday sir🎂🎁🎉stay healthy ☺️#SundarPichai pic.twitter.com/fhgIdqKUxX

— Harshita Pandey (@Harshitapandey0) June 10, 2021
---
Sundar Pichai Ka Jeevan
Sundar Pichai, jo Chennai mein pale-badhe aur Indian Institute of Technology (IIT) mein engineering kee padhaee kee, kaee maayanon mein har Bharatiye ke lie ek udharan hai ki sapne sach hote hain. Sundar Pichai vartamaan mein Google kee parent company Alphabet Inc. ke pramukh hain, aur iss samay duniya ke technology experts mein se ek hain. Sundar Pichai ne June 2020 mein un chunautiyon ke baare mein bataaya, jinka saamana unhonne 27 saal pehle Stanford University mein ek course karne ke lie America jane ke lie Bharat chhod diya tha.
"Mere pita ne America mein mere havaee jahaaj ke ticket par ek saal ke vetan ke baraabar kharch kiya taaki main Stanford University mein admission le sakoon. Yah mera pehlee baar havaee jahaaj par anubhav tha," Sundar Pichai ne kaha, jab vah antatah California mein utre, to cheejen vaisee nahin theen jaisee unhonne kalpana kee thee.
---
Sundar Pichai Ke Bare Mein Kuch Facts in Hindi
Sundar Pichai ka pura naam Pichai Sundararajan hai.
Sundar Pichai ka janm Tamil Nadu ke Madurai mein ek middle class family mein hua hai.
Sundar Pichai kee maa ka Lakshmi, jo ek stenographer theen, jabki pita British conglomerate GEC mein electrical engineer the.
Apne poore bachapan ke dauraan, Sundar Pichai Chennai ke Ashok Nagar mein do kamare ke apartment mein refrigerator jaisee buniyaadee aavashyakataon ke bina bade hue.
Sundar Pichai ko 2014 mein Microsoft CEO ke lie ek daavedaar ke roop mein chuna gaya tha, jise antatah Satya Nadela ne le liya tha.
Sundar Pichai ko Football aur Cricket khelna pasand hai.
Sundar Pichai ne apanee college girlfriend Anjali se shaadee kee. Donon Indian Institute of Technology (IIT), Kharagpur mein mile.
Pichai ne Stanford University se Master's Degree aur Wharton School se MBA kiya hai.
Vah 2004 mein Google mein shaamil hue aur Google Toolbar, aur phir Google Chrome ke vikaas ka netrtv karne mein madad kee, jo duniya ka sabse lokapriy Internet browser ban gaya.