CBSE Class 12 Board Exams 2021 CANCELLED – Puri Jankari Hindi Mein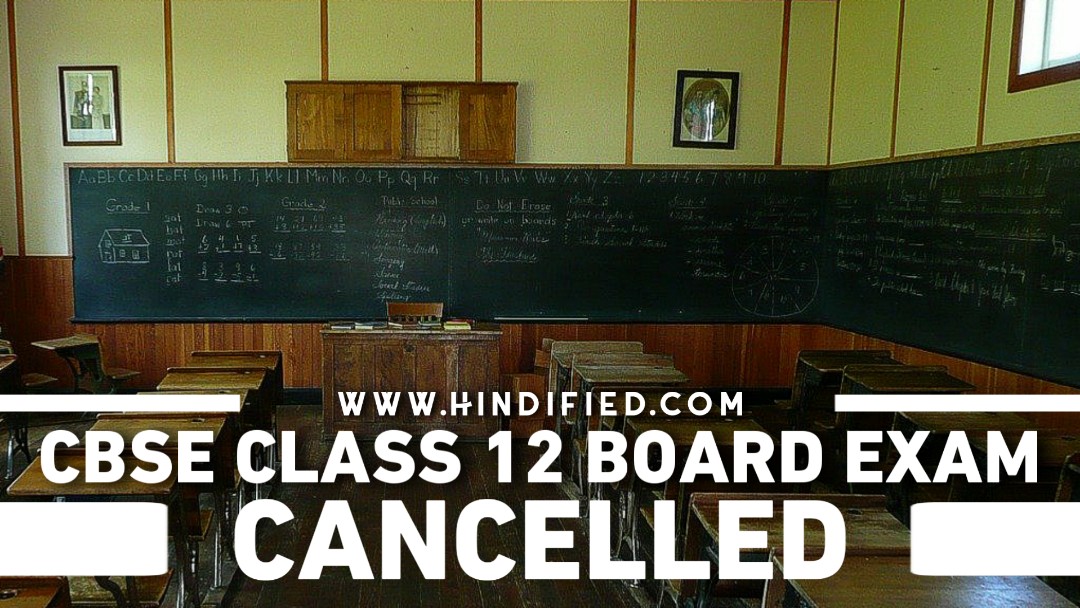 Chal rahe COVID-19 mahamaari ke beech, CBSE Class 12 Board Exam 2021 Cancel kar dee gaee hai, Pradhaan Mantri Narendra Modi ne aaj shaam CBSE Class 12 Board Exam 2021 kee ek mahatvapoorn meeting kee adhyakshata karne ke baad yah ghoshana kee. PM Modi ne kaha ki Class 12 CBSE Board Exam par nirnay students ke hit mein mahamaari ke kaaran paida huee anishchit sthiti ke kaaran liya gaya hai. Iss meeting mein PM Modi ko Class 12th ke students ke lie sabhee sambhaavit vikalpon ke baare mein bataaya gayajsike bare mein ham iss article mein charcha karenge.
---
Aakhirkar CBSE Class 12 Board Exam Cancel Hua
Government of India has decided to cancel the Class XII CBSE Board Exams. After extensive consultations, we have taken a decision that is student-friendly, one that safeguards the health as well as future of our youth. https://t.co/vzl6ahY1O2

— Narendra Modi (@narendramodi) June 1, 2021
Bharat ke Pradhan Mantri Narendra Modi ne kaha ki Class 12 CBSE Exam par nirnay chhaatron ke hit mein liya gaya hai. Unhonne yah bhee kaha ki COVID-19 ne Bharat ke academic calander ko prabhaavit kiya hai aur Board Exam ka mudda chhaatron, abhibhaavakon aur shikshakon ke beech atyadhik chinta paida kar raha hai, jise samaapt kiya jaana chaahie.
PM Modi ne kaha ki Coronavirus kee sthiti poore desh mein ek gatisheel sthiti hai. Jabki desh mein sankhya kam ho rahee hai aur kuchh rajya prabhaavee lockdown ke maadhyam se sthiti ka prabandhan kar rahe hain, kuchh rajyaon ne abhee bhee strict curfew ka vikalp chuna hai. Aise mein chhaatron ke svaasthy ko lekar chhaatr, abhibhaavak aur shikshak svaabhaavik roop se chintit hain. Aisee tanaavapoorn sthiti mein chhaatron ko Exam mein baithane ke lie majaboor nahin kiya jaana chaahie.
Iske alaava, Pradhan Mantri ne jor dekar kaha ki hamaare chhaatron ke svaasthy aur suraksha ka atyadhik mahatv hai aur is pahaloo par koee samajhauta nahin hoga aur sabhee hitadhaarakon ko chhaatron ke prati senstivity dikhaane kee jaroorat hai.
---
CBSE Class 12 Board Exams 2021 Result Kaise Nikala Jayega?
Kendreey mantriyon aur any adhikaariyon ke saath PM Modi kee mahatvapoorn meeting ke dauraan, yah bhee nirnay liya gaya ki CBSE Class 12 ke chhaatron ke results ko "well-defined objective criteria" ke anusaar samayabaddh tareeke se sankalit karne ke lie kadam uthaega. PM Modi ne kaha, "12th Class ke results samayabaddh tareeke se achchhee tarah se paribhaashit uddeshy maanadandon ke anusaar banae jaenge."
---
Samapan
Aaj kee meeting mein, Kendriye home, raksha, vitt, vaanijy, soochana aur prasaaran, petroleum, mahila evan baal vikaas mantraalay, aur PM Modi ke pradhaan sachiv, cabinet sachiv, aur school shiksha aur uchch shiksha vibhaagon ke sachiv aur anya adhikaaree shaamil hue.
Class 12th Board Exams ke baad JEE Mains aur NEET samet entrance Exam par phaisala jald hone kee ummeed hai. Shaikshanik satr sthagit hone ke kaaran college mein entrance bhee rok die gae hain. Yah bhee nirnay liya gaya ki pichhale saal kee tarah, yadi kuchh chhaatr Exam dene kee ichchha rakhate hain, to sthiti anukool hone par unhen CBSE dvaara aisa vikalp pradaan kiya jaega.