CBSE Class 12 Board Exam 2021 News in Hindi – Exam Date, Pattern, aur Anya Jankari Hindi Mein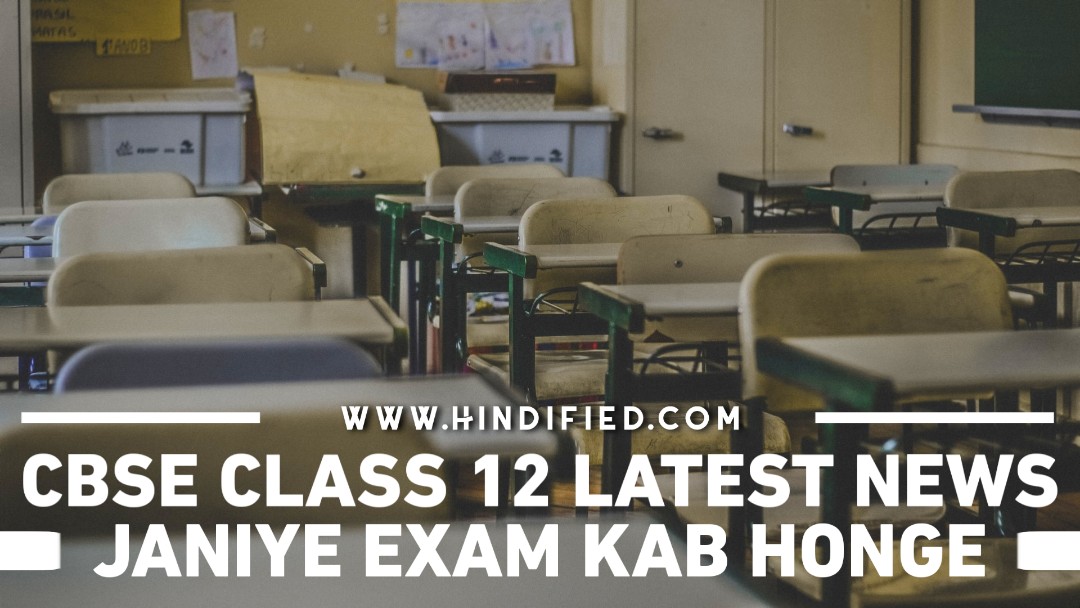 Kendr sarakaar ne spasht kiya hai ki CBSE Class 12 Board Exam 2021 aayojit kee jaegee. Haalaanki, Supreme Court mein CBSE 12th Exam ko cancel karne ke liye ek yaachika daayar kee gaee hai aur sunavaee 31 May, 2021 tak ke lie sthagit kar dee gaee hai. Is lekh mein, ham Class 12 Board Exam 2021 ke baare mein vistaar se charcha karenge, CBSE Class 12 Exam Date 2021, Exam Pattern, aur isse sambandhit anya mahatvapoorn chizon ke baare mein charcha karenge.
---
CBSE Class 12 Board Exam 2021 Honge
Kendr sarakaar ne ghoshana kee hai ki Class 12th Board Exam anivaary roop se aayojit kee jaegee, aur Class 12 kee board Exam aayojit karane ke lie board do vikalp prastaavit kie hain, jo niche diye gaye hain.
Option 1 › Pehla option yah hai ki main subjects ke lie 12th Class kee Exam aayojit karana, aur in subjects mein students ke performance ke aadhar par marks diye jayen.
Option 2 › CBSE 12th Board Exam 2021 ke lie doosara prastaavit vikalp pehle kee tarah hee Exam aayojit karana hai. Lekin, CBSE 12th Exam pattern mein kuch chhote badalaav karen. Ek uchch stareey baithak ke baad, Delhi ke Deputy CM Manish Sisodia ne kaha ki kendr ne 3 ghante ke bajaay 1.5 ghante kee avadhi ke saath Exam dene jaise pattern mein kuchh badalaavon ke saath Exam aayojit karane ka prastaav rakha.
---
CBSE Class 12 Exam Date 2021
CBSE Class 12 Exam Date 2021 kee ghoshana abhee tak nahin kee gaee hai, aur CBSE Class 12 Board Exam 2021 par ek antim nirnay 1 June, 2021 tak liya jaana hai. Raajy sarakaaren apanee sambandhit 12th Board Exam 2021 ke lie bhee nirnay le rahee hain.
---
Board Exam Karane Ke Paksh Mein, aur Khilaaph Yachika
Advocate Mamta Sharma dvaara daayar yaachika mein Kendreey Maadhyamik Shiksha Board (CBSE) aur Council for the Indian School Certificate Examination (CISCE) ke 2020-21 batch kee 12th kee Exam cancel karane ka nirdesh dene kee maang kee gaee hai.
Vaheen doosaree or CBSE 12 board Exam ko cancel karane ke khilaaph Supreme Court mein ek yaachika bhee daayar kee gaee hai. Kerala ke ek shikshak Tony Joseph ne apni yaachika mein kaha ki Exam cancel karana chhatron ke liye sahi nahin hoga, aur 12th ke board exams karaye jaye.
---
Samapan
Kendreey Shiksha Mantri, Ramesh Pokhriyal ne ravivaar ko raajyon se class 12th Final Exam par sujhaav bhejane ko kaha tha aur kaha tha ki jald se jald phaisala liya jaega. CBSE Class 12 board Exam Date 2021, schedule, aur exam patter kee ghoshana 1 June ko hone kee sambhaavana hai. Kaee raajyon ne pehle hee ya to apne apne state baord ke exam pattern, aur exam dates kee ghoshana karna shuroo kar diya hai jisamen board Exam aayojit kee jaegee.